09 Nov 2022
Partners on and off the water - Saskia Budgett and Kyra Edwards
By James Lee
Reading Time: 5 Minutes
Great Britain's Saskia Budgett and Kyra Edwards are not just partners on the water, they're partners off the water too. World Rowing spoke to the duo at this year's World Rowing Championships in Racice, where they were racing in the women's double sculls, to hear more about how their relationship works alongside their rowing.
The 2022 World Rowing Championships was the second time racing together in this boat class. Their selection came following their result at the European Rowing Championships in Munich, where they had finished fifth in a highly competitive field. They had only got into the boat together a few weeks before travelling to Munich. Asked how it came about, Edwards joked;
"It was coincidence really. Our quad is really good. There are lots of really good scullers – they are so good that we weren't good enough for any other boats! So, we happened to be the two people that needed a boat to go in. I was in the quad for Lucerne before we did some more seat racing. Then we hopped into the double. Because it went quite well in Munich, all things considered, we stayed in it for the World Champs."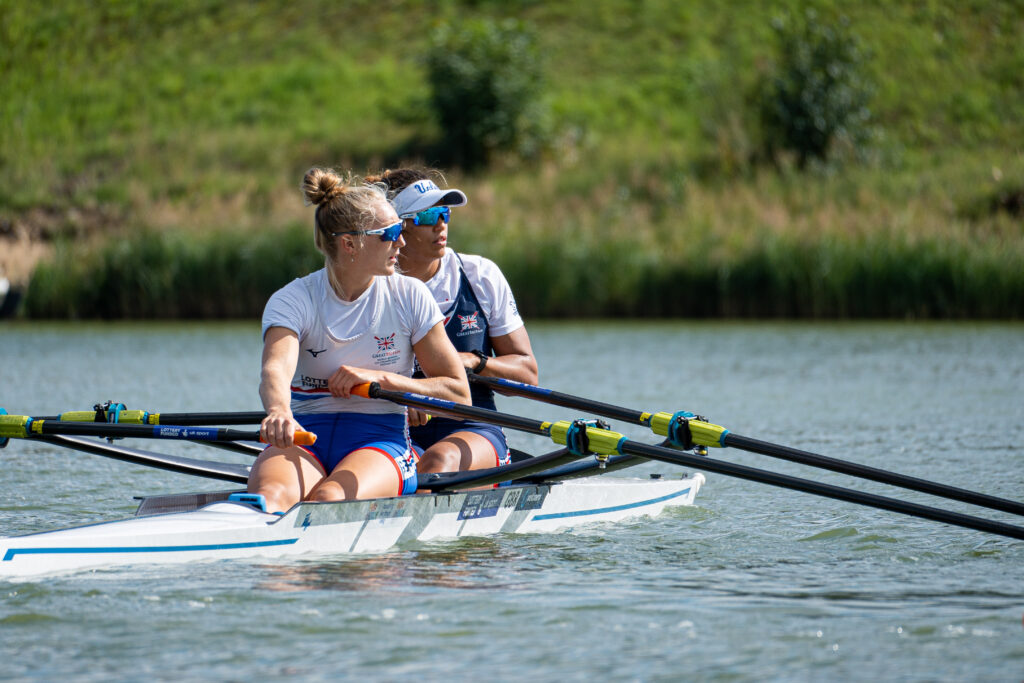 This wasn't the first time they had been in a boat together. Edwards and Budgett met at UCLA where they studied and were regularly in the same eight. They also raced together at the 2018 World Rowing U23 Championships where they won bronze for Great Britain in the women's quadruple sculls. But, as Budgett said, "this is the first time it is just us two!"
When they were first put in the boat together, Kyra remembers how their Head Coach patted them on the back and said "It's great that you guys can be really honest!". Budgett also commenting that halfway through their training camp, the coaches asked, "are you guys still OK in a room together and a boat together?" Budgett reflected: "Honestly for us, it was just like having home on camp and to be able to work together was really good."
Asked if they ever get any time apart, Edwards quickly replied;
"Literally, no! We've lived together for six years, and we've rowed together for all of those years. We met when we were on the same team [at UCLA], so, it has just dialled up a notch of intensity, but we've kinda been gearing towards it, so it's not something drastically new or different." She continued, "I remember being a bit apprehensive at the start, thinking it might be too much and we would be bickering, and doing really aggressive calls, but I think we're both really aware we don't want that to happen."
It was clear that Saskia and Kyra put a lot of effort into keeping their home life separate from their rowing life, with Saskia saying,
"That is a big thing that we put a lot of focus on, keeping it professional in the boat and sort of keeping our relationship out of the rowing and then when we get home, keeping the rowing out of the relationship. Obviously, we're both rowers in a relationship – so we're kind of doing that anyway. Obviously, it's even more extreme when we're in the same boat but we just try to keep it separate. The communication is the main thing in our relationship – keep it open and honest."
The duo are clearly very passionate, about their rowing, and their relationship. They also have no doubts that there are elements of their relationships that helps 'make the boat go faster'.
"At the end of the day, we both really want this to work – obviously the boat, and the relationship!", Saskia joked. "It's really nice to have the support from each other in both aspects. Obviously having the same goal, and doing it together is a really fun thing to be able to do."
Speaking very personally, Kyra said;
"It's not very often that you get to actually be able to help your partner achieve their goals and their dreams. There's something really special about that. You can sit there and if someone comes home from a bad day at work all you can say is "I'm sorry, I hope it gets better", whereas this is like "OK, let's fix it, how are we going to do this?". That adds a lot of motivation to the situation to be able to do it for one another. We have so much trust in each other and unsurprisingly, I think we work really well together."
Saskia chipped in, "Having spent so much time together, we know how to navigate a lot of situations, which is really helpful when racing can be stressful and unpredictable." with Kyra adding the final thought on the matter, "We know what each other is thinking, and that's helpful too."
Saskia and Kyra both spoke with nothing but positivity about the team around them and the support that they have been given. Speaking specifically about the GB Rowing Team, Kyra said;
"At the end of the day, this team that we've got at the moment is really close. We're all good friends and we all hang out together so although at times it's obviously a bit different that we're in a relationship. We've only ever had support from all of the teams we've been in. I've never had any weird moments, or awkward moments. It has all been really normal. At least as far as GB goes, it's a really open and caring and supportive environment."
Saskia agreed, and commented;
"Because we've been together for 6 and a half years, people know us as being in a relationship, so most people in the team just see us as a couple and are fine with that and are really supportive. I'm really enjoying being a couple and being here and representing the community and I think that is really important to us, to have that representation."
Just a couple of weeks after this year's World Rowing Championships, Saskia and Kyra got engaged, and we wish them years of happiness and success together, both on and off the water!
View this post on Instagram