16 Dec 2022
December 2022: Tara Rigney
ROWER OF THE MONTH – A breeze of fresh air. It's no wonder 23-year-old Australian rower Tara Rigney enjoyed her 2022 season – she won a bronze medal at the World Rowing Championships and two medals at World Rowing Cups II and III. The ever-smiling, talented Rigney, also recent winner of the Australian Hancock Prospecting Female Crew of the Year Award, is looking for more in 2023. She is our December Rower of the Month.
How was your 2022 rowing season?
I was extremely happy with how the season went. My first international senior regatta was the Tokyo 2020 Olympic Games, so obviously it was completely different this year. I loved going to all the World Cups this year, first because I learned so much. I did my first race at World Rowing Cup II, I looked out at the 500 meters and everyone was already gone! I realised the intensity I needed to bring to racing. My coach Ellen Randell really guided me throughout this season and taught me how to race internationally.  I also enjoyed meeting so many new people throughout this season – to be able to have a laugh and a chat with your competitors after racing is one of the best parts of international regattas. I loved racing in the single and I definitely didn't think I would end up with a bronze medal at the World Rowing Championships. It was a surprise, but a good one.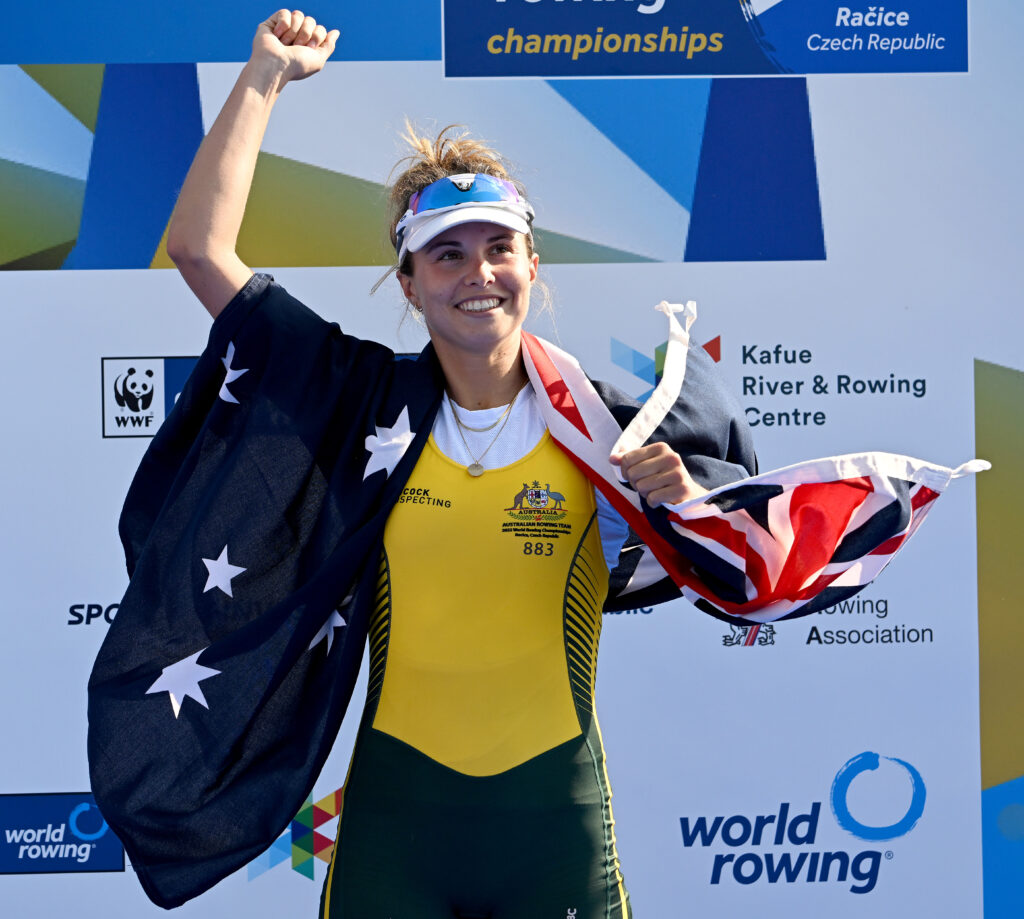 You just won a bronze medal for Australia at the 2022 World Rowing Championships. What did it mean to you?
When I was younger, I admired Kim Brennan (born Crow). Who doesn't love her in Australia? I watched her winning her gold medal in Rio, and now winning a bronze medal in the same boat class as her, it was just awesome. I also had the chance to talk to her after the event, to share experiences, it was fantastic. I think the dynamic of racing in the women's single sculls is great. When I was at the start line of the World Championships' final and I saw Emma Twigg in the lane next to me, it was a little bit of a pinch-me moment. One of the best parts about the single is the comradery between scullers – it was awesome to have a chat to everyone on the podium and then again during the Gold Cup in Phillidelphia. I also think the single racing this year was very exciting, with talented athletes such as Alex Foester who has an insanely quick last 500 meters, always keeping things interesting! From a spectating standpoint, the women's single is great – and it's great being part of it.
Your first senior international race was at the Tokyo 2020 Olympics. How did it feel, compared to the international races you competed in this year?
If you had told me in January 2021 that I was going to be in the Olympic team, I probably wouldn't have believed you. Because I had only raced internationally at the Under-23 level in the Women's Pair. I was stoked to be selected for the Olympics, however because it was my first Senior World Championships, I didn't realise how outside of normal Tokyo was. The racing there was next level, it's what you're aiming towards. But I have to say, in 2022, I enjoyed having the chance to practice a few races before the World Championships, refine my race plan, try different things, different set ups, different oars… I was grateful to have a bit more time to prepare.
You've raced in the double in Tokyo, and this season in the single. What prompted the switch to this boat class?
I enjoyed both, being the single and in crew boats, they both offer different things. I got back in the single straight away after Tokyo, and I just loved it, I was training in it a lot. I went to the national trials, and it went well enough that Rowing Australia gave me a shot for World Rowing Cup II. But I wasn't sure what boat I was going to row into after World Cup III, when I was confirmed in the single. I was grateful to have the opportunity to do that. I love rowing the single scull, but I enjoy crew boats as well, I rowed in the Quad at Henley Royal Regatta, and I loved it too. Any sculling boat would do!
How did you first get into rowing?
I went to school at Loreto Kirribilli, in New South Wales. I didn't want to join rowing initially as I was an 800m runner. My sporting teacher told me that I should give it a go, and I loved it, loved the camaraderie. I wasn't a big fan of the early morning trainings at the beginning, but I loved my school friends, rowing camps… I rowed for a few years at school, but I was torn between rowing that I loved, and netball, which was my number 1 priority. Unfortunately, I ruptured my ACL twice. And the second time I did it, I was like, I have 12 months off, so I will row in the meantime, because I thought it was going to be a great way to gain fitness. My coach, Alfie Young at Sydney University remembered me from when I was younger, heard I had stopped playing netball and asked me if I wanted to row down at the Sydney University sheds. I loved rowing at Sydney Uni and learnt a lot from Alfie throughout my time there. I loved being in a smaller boat because you could see the reward and the correlation between making your technical change and the speed. I planned on going back to netball, but I just loved rowing too much and now it's my number 1 priority.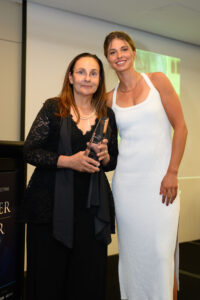 From there, I was in the Pair for the first year in 2019, and it was only at the end of the year 2019 that I got in the single. This year really signified my journey from falling out of the boat in my first race – I also fell out of my boat at the National Championships in 2021 after being selected in the double – to my 2022 season, with getting that bronze medal, I feel like I've come a long way. I was really proud of myself, and grateful for the support of Rowing Australia, my coach Ellen Randell and the Sydney University Boat Club.
When you aren't rowing, what does your life look like?
I am finishing a Bachelor of Commerce at Sydney University, and I will be looking towards getting a post-graduate role into next year. But I have the most amazing family and friends! So, as much time as I can spend with them, I do, and I am just so lucky to have that and my sports network.
What are your upcoming goals in rowing?
The Paris 2024 Olympic Games! There's a couple of steps before that – continuing to learn about international racing, putting on a bit more muscle, that will help make a difference to my performance. Understanding that weights correlates to better erg sessions, which correlates to faster on water times… I am currently working at the National Training Centre, just chipping away at it slowly!"
Where is your favourite rowing location?
I am biased so I will say the Sydney International Rowing Regatta because it's a really great course, and usually a direct wind. But I absolutely love Varese, I enjoy our time there so much. The course is obviously beautiful, bluest water, and the people there are so awesome, so friendly… I am really looking forward to going there in 2023 (for World Rowing Cup II).
If you could give one piece of advice to a rower starting out what would it be?
Just enjoy it and have fun. You probably dedicate way too many hours to the sport to not have fun, so keep your friends close, have a laugh, and make sure you're always enjoying what you're doing.
What is the most memorable piece of advice that has been said to you?
We had a workshop before going to the Tokyo 2020 Olympics, and a Commander from the Army came to talk to us. He said something that really resonated with me: "You don't rise to the occasion, you fall back to your training". I found that sentence awesome.
Do you have a mentor or athlete that you admire?
Kim Brennan has been so iconic in the rowing world. I looked up to her, she's  a great role model – from her impressive rowing career to her transition out of sport, corporate life and raising her kids… If my life is like hers when I am 35 years old, I'll be doing well.