29 Mar 2023
The growth of indoor rowing will encourage healthier ageing
By Johnny Luk
Reading Time: 4 Minutes
The recent World Indoor Rowing Championships in Mississauga, Canada were a huge celebration of indoor rowing. The high participation rate across many age groups, including the world record feats of older athletes, such as Susan Gehrke of the USA, in the lightweight 500 metre Women's 70-74 age group, served as a reminder of how good indoor rowing is for healthy ageing.
Another trailblazer is 91-year-old local Canadian Alida Kingswood, who broke the lightweight 2,000 metre rowing record by over 90 seconds for the 90-94 age group. "I am not a grandmother that does crafts with the kids or bakes cookies," Kingswood was reportedly heard to say after this astounding achievement. Kingswood, a daily gymgoer, is no stranger to the podium, having broken many previous records as well as collecting world titles since starting rowing just five years ago.
USA's Dottie Stewart is also a late joiner into the sport, picking up the ergometer handle for the first time at the seasoned age of 95. In this year's C.R.A.S.H.-B competition, she broke another world record at the stellar age of 101. Stewart's endeavour attracted an enthusiastic crowd during the race, and her inspiring performance was a reminder that it is never too late to start rowing.
Gehrke, Kingswood and Stewart are not alone. The number of older athletes participating in indoor rowing has rapidly grown. Over 42% of 2000m Concept2 logbook scores so far in 2023 are from those over 50, compared to just 9% in 2002.
This growth is helped by the increasing profile and accessibility of indoor rowing. Ergs have been the workout of choice for student athletes to Olympians for decades, but these venerable machines are no longer exclusive to just the boat houses. For one, there is a growing range of machines to cater to varied budgets and lifestyles, accompanied by a plethora of new training apps. Ergs are also featuring increasingly in commercial gyms. British Rowing's analysis for the UK in 2017 suggested nearly 80% of the population had access to a rowing machine, which has likely only grown since.
The home gym is also more popular now, with the compact nature of the erg, alongside being able to train indoors during a wet day, making it particularly appealing. During the pandemic, supply chain disruption alongside lockdown rules meant that in parts of the world, rowing machines were sold out as people clamoured to find one, with Concept2's Model D's having to temporarily deploy a wait list.
So why is the surging popularity of indoor rowing good for older health?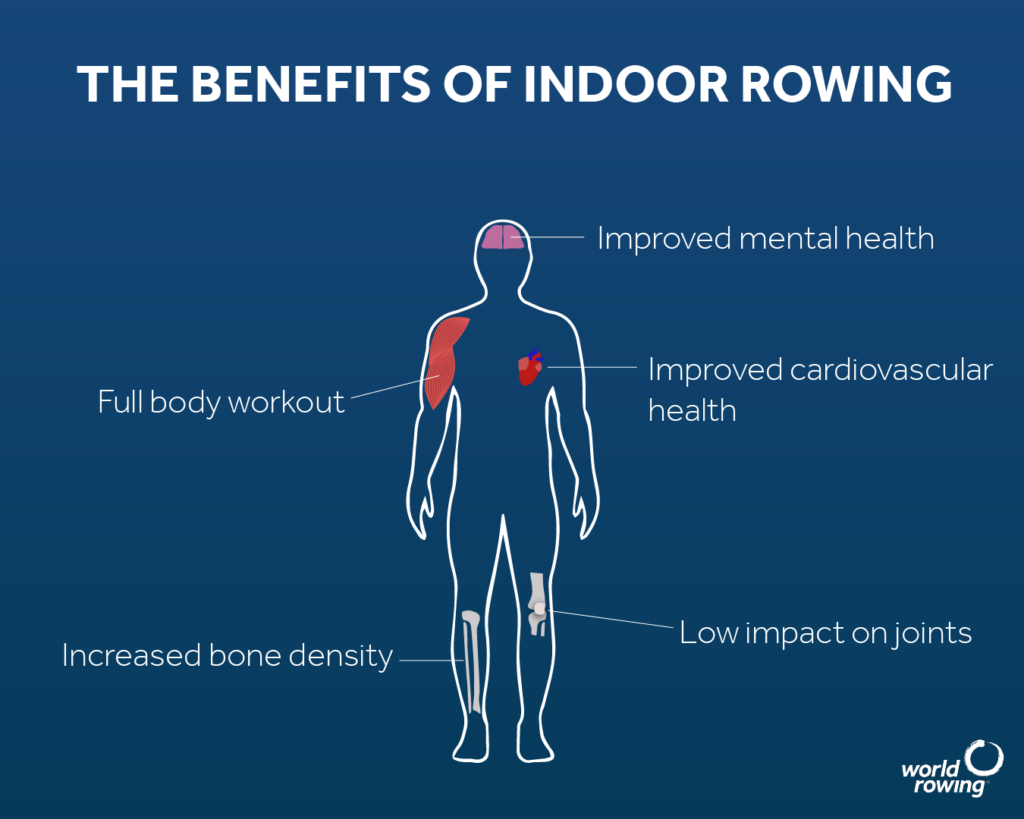 Indoor rowing is one of the few ways of providing a comprehensive yet low-impact workout. As a non-weight-bearing exercise, there is less stress on the joints in contrast to other activities such as running or jumping. This provides older adults a path to fitness with a lower risk of injury.
The rowing machine blends resistance training with cardio. Rowers benefit from a workout from all the major muscle groups, including the legs, core, back, shoulders and arms, retaining strength and muscle. Rowing also raises the heart rate and improves cardiovascular health, which is particularly important given that cardiovascular disease is a leading cause of illness for older adults.
People also start losing flexibility and posture as they age. With the proper technique, the range of motion afforded by going up and down the slide, from the extension of the legs, the pivot of the hips and the reach of the arms, can help older adults who may experience stiffness.
Perhaps the greatest benefit of indoor rowing is mental. Nothing is more dopamine-inducing than beating a time or the sense of relief as the metres tick to zero after a long session. Then there is the thrill of participating virtually, or in person in the range of different rowing competitions and, most importantly, the feeling of being part of a community and the mutual bonds formed from a close-fought race and a shared challenge.
When Stewart was asked how she felt after breaking a world record in 2020, her eyes lit up, her hand shot up in the air and she loudly declared she was, "terrific".
Despite the rowing machine's relentless demand of sweat, tears and blisters, the rewards of physical and mental health given in return, no matter how old, or how experienced, is what keeps us all sitting on the rowing machine, chasing our goals.