17 Apr 2023
Where are they now: Amber Halliday
"I guess that means I'm a has-been now."
This was Amber Halliday's reply when approached by World Rowing for the 'Where are they now' series. Halliday is at the younger end of the series – she's just 43 years old – but has already had an extraordinary life and it's not just been about her rowing accomplishments.
Like many former rowers, Halliday is busy. She squeezes in the World Rowing interview while walking O'Rielly the dog from her home in Adelaide, South Australia. Halliday is working from home today and has limited time.
As a high school student Halliday took up rowing because she was "really bad at tennis". She then reveals she comes from a rowing family and rowing was big at her school.
"It was on my radar. My dad was a rower, he enjoyed the experience and told a lot of dad stories." But it was following a friend into the sport at her school that really got Halliday involved.
"I really enjoyed it. I had a lot of fun and made a lot of friends and wanted to be better at it. I had a little bit of success. I don't know what came first the enjoyment or the success."
The early success included winning the Head of the River. "In South Australia it's a big deal. It's the pinnacle of rowing for school kids."
Halliday's rowing journey, however, did have bumps. She describes trying out for a development squad at the end of school and making it into a 'lower squad' only to be kicked out.
"I had some trouble getting back in and I worked outside of the (Australian rowing) system with a coach. I got back in."
Her early days were self-funded. "We had to drive to selection regattas, rather than flying, do 16-hour trips and then pay to represent Australia. I'm so grateful to my parents who supported me through that. Then I became a funded athlete."
Halliday went on to have a string of World Championship medals including three World Champion titles and the 2004 and 2008 Olympic Games. Of her international career it is the World Rowing Championships in 2002 that she claims as a career highlight.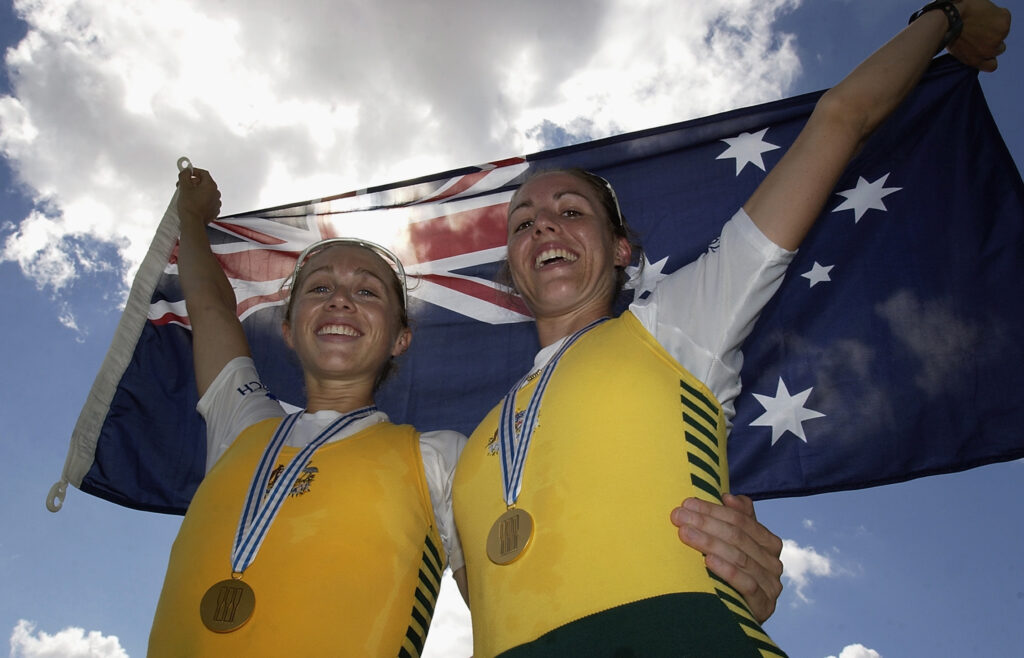 "I was racing with someone I admire, Sally Causby. We were in this Olympic class boat for the first time and had no expectations. We put together a good season and won the world title."
This highlight then turned into a bump. The duo went into the 2004 Olympics with high expectations after a silver medal at the World Rowing Championships in 2003. Then bad luck. Causby got injured and couldn't row. Halliday was paired with Sally Newmarch. Out cycling 100 days before the Games, Halliday was hit by a car.
"I made it to the start line and to the final. The final was heartbreaking." Halliday and Newmarch set a World Best Time in the heat then finished fourth in the final.
Halliday took some time off from international rowing coming back in 2006 to finish second at the World Rowing Championships, and winning the gold medal at the 2007 World Rowing Championships with Marguerite Houston. She continued through to the Beijing Olympics, racing in the b-final.
"We were reining world champions when we rowed at the Beijing Olympics in 2008, so it was brutal that we ended up rowing in the b-final."
Retirement from the sport was as Halliday says, forced onto her. After the Beijing Olympics Halliday switched to cycling. It was 2011 and Halliday had entered a cycling race in her home town of Adelaide.
"We were trying to get a women's event going alongside the (men's) Tour Downunder. The race was very important to me. I was in a break and I clipped a wheel, fell and landed on my temple."
The outcome for Halliday was devastating.  She had suffered a traumatic brain injury.
"It's like emerging from a fog when you recover from brain injury. When I was first coming out of the fog I had post-traumatic amnesia. After a month they told me I'd had a crash. I thought it was like a stress fracture, so I thought it wouldn't take long to recover. As the cloud cleared over the weeks and months I came to understand that my left side didn't have the strength and this might never go away."
The cloud slowly cleared and Halliday went through a thorough rehabilitation that included speech therapy.
"To put it simply you basically have to start again. You have to learn to walk and talk and start from scratch." Halliday has no memory of a lot of the therapy.
"I don't remember. I couldn't encode those memories. I went from the height of my capabilities to starting from scratch."
Fortunately Halliday had insurance that allowed her to recover for a year before going back to work as a journalist.
"I covered the 2012 Olympics which for me was bittersweet."
Being in print journalism Halliday realised that this could be limiting going forward. She decided to restart her psychology studies.
"I went back (to study) to prove to myself that my brain was still working."
Halliday went on to do a PhD in psychology. Along the way she moved with her husband to the United States, had a baby and finished her PhD remotely from the US. The family moved back to Australia in 2020 and Halliday now works for the Department of Education.
She says there's been many lessons learnt along the way from her sport.
"Rowing provided a safe space for me to learn how to get along with people, be calm under pressure, learn how to be organised and how to manage pain and discomfort. It's not all like that with everyone, I certainly had big challenges through rowing, It wasn't always perfect but I feel like I learnt a lot. It was the foundation for building lifelong resilience."
Halliday has stayed involved in rowing including a time as part of World Rowing Athlete's Commission. She gets invited to row in an eight occasionally.
"Because of residual impact on my left side from the accident, I can only row on stroke (port) side."
Luckily for the former lightweight double sculls world champion, sweep rowing has two sides.