10 May 2023
The Irish powerhouse that is Skibbereen Rowing Club 
By Johnny Luk
Reading Time: 3 Minutes
Skibbereen Rowing Club, nestled in the rolling green hills of the scenic south of Ireland, has been making waves that are being felt at the tallest summits of rowing. Founded in 1970 by Richard Hosford, Donie Fitzgerald and the late Danny Murphy, the crew started with just a single boat, a four-oar rowing gig.
Within five years, Skibbereen birthed their first World Championship rower, Nuala Lupton, now the current Skibbereen Rowing Club president. In 1977, the Club purchased the land that remains their home today, on the banks of the River Ilen, just outside of the idyllic town of Skibbereen in County Cork.
Skibbereen Rowing Club has consciously focused on being a high-performance club. Their facilities are formidable, boasting a 3 600 square-foot boathouse as well as a clubhouse and a fully equipped gym. With over a hundred members and growing, "a new extension will be added this summer, which we are very excited about", says Sharon Murphy, a key member of the Club.
Their track record speaks for itself, its members having won 188 Irish titles and boasts alums winning Olympic medals, including the silver medal at the 2016 Rio Olympics by Gary and Paul O'Donovan in the men's lightweight double scull and a bronze medal for Emily Hegarty in the women's four in the Tokyo Olympics. A significant milestone was reached for the country when Paul O'Donovan and Fintan McCarthy won Ireland's first-ever rowing Olympic gold medal in Tokyo in the lightweight double scull. Skibbereen's pedigree is made even more impressive given all eight of the Club's coaches are volunteers, led by head coach Denise Walsh.
Skibbereen Rowing Club's importance to domestic Irish rowing is on display every year through its involvement in running four national "Grand League" regattas for Rowing Ireland at the National Rowing Centre in Cork. This includes hosting the 1 000 m "classic" at Drinagh Lake, for which they install a six-lane rowing course to run an inclusive regatta predominantly for club rowers, juniors and masters. They also handle an annual Head of River race at the Marina in Cork City in November.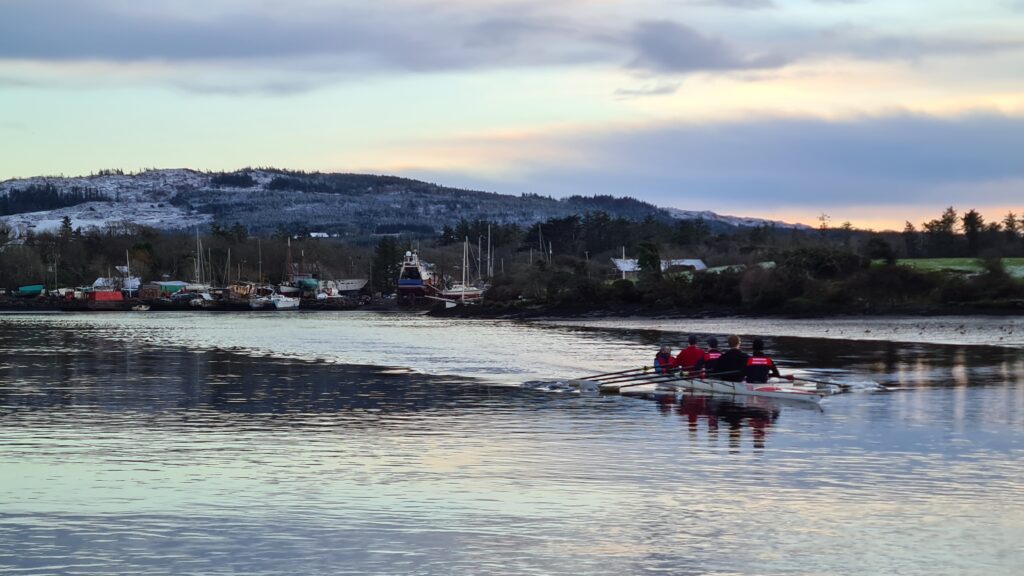 Skibbereen Rowing Club contribution extends to playing a vital stewardship role for the community and the local environment. The Ilen River provides endless opportunities for wildlife and rowers alike, as it is long, tidal, semi-protected from the elements, and if the weather cooperates, a constant source of inspiration. Rowers co-exist peacefully alongside herons, curlew, shags, swans, pipers, egrets and the odd kayaker. The Club's latest plan is an ambitious project which involves buying 20 acres of land adjacent to the boathouse to become the Club's new 'Olympic Park', where will plant 21 000 native trees and build walking and running tracks. They will act as the guardians for the area's natural biodiversity, protecting the prolific wildlife by the river bank.
Regarding the future, Skibbereen is constantly on the hunt to produce the next crop of Olympians. They have focused predominantly at the youth level, with smaller groups in the U23s, seniors and masters. They often partner with local junior schools to introduce rowing, with some of their coaches involved with Rowing Ireland's "Get Going Get Rowing" initiative with the local community. Skibbereen Rowing Club's growing profile garnered from their Olympic successes, as well as their diligent contribution to the local community, suggest there are plenty of willing new joiners.
When asked about Skibbereen's recipe for success, Murphy quickly pointed out their answer, "People". She continues, "people are the secret to any success, and we have been blessed with ours. Every last person has contributed to our success, from athletes to patrons and coaches to committees and volunteers. Hard work, community support, good coaching, the river, and the belief and understanding of what it means to be from Skibbereen and row for Skibbereen."
We look forward to seeing the success of Skibbereen Rowing Club, both on and off the water, continue to grow!