19 May 2023
May 2023: Antonia & Melita Abraham
It's too bad that a mixed four does not exist – the Abraham quadruplets from Chile would certainly be the heavy favourites to get a medal. Melita & Antonia Abraham were the first-ever Chileans to win a gold medal at the Under-23 level six years ago, and they continue to write history for Chilean rowing, having won the first-ever senior women's gold medal at the 2023 World Rowing Cup I in Zagreb. They are our May 2023 Rowers Of The Month.
How has been the start to your 2023 rowing season been?
Our season started in the best possible way with the qualification of four boats for the 2023 Pan American Games in Santiago, and then the gold medal in the women's four at the 2023 World Rowing Cup I in Zagreb. It shows the hard work, every day in training. After 10 years performing at the highest level, every year we feel stronger and more experienced to face international competitions. We are ready for 2023.
You won a gold medal at the 2017 World Rowing Under 23 Championships in Plovdiv. What are your memories of this amazing performance?
For us, there was a 'before' and a 'after' the gold medal in 2017 in our sporting career. It was a dream come true, a dream we had since we started rowing at the age of 10. Bienve (Bienvenido Front), our coach, has a lot to do with this, he made us believe that we were capable of achieving whatever we set our minds to, and that with hard work and passion everything is possible regardless of where you come from. We are so grateful that Bienve came to coach us here in Chile. It also motivated us to set bigger goals, especially at senior level, and wanting to do something important on the world's biggest stage. Our dream is still to go to the Olympic Games and have a great result for our country.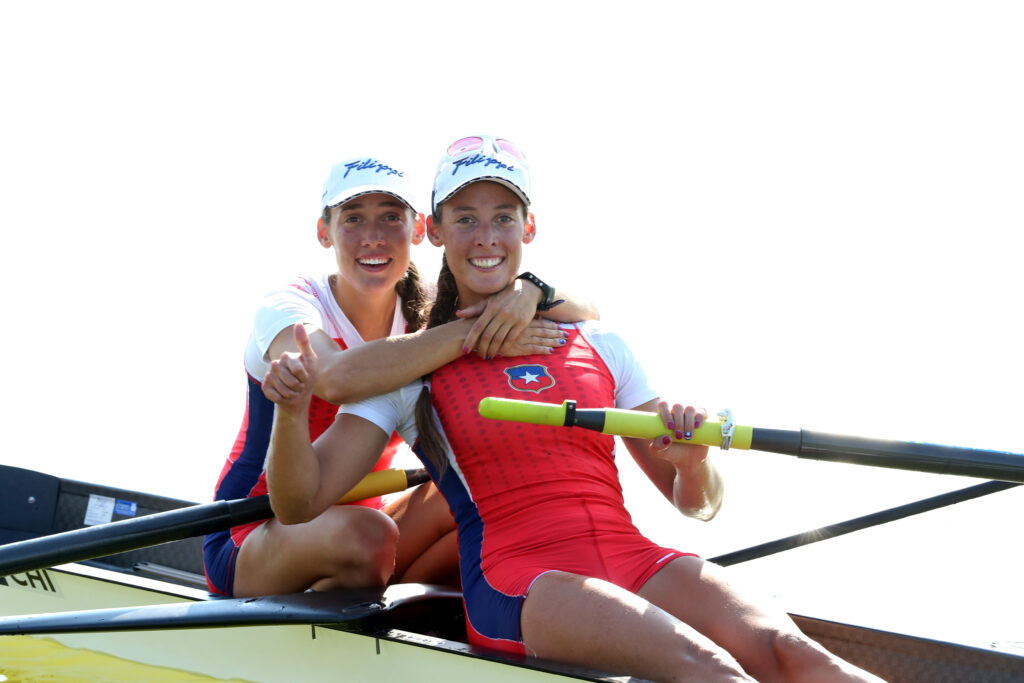 You just won the first-ever gold medal at senior level for Chile women's rowing. What did this gold medal mean to you, and to the Chilean rowing community?
For us, it is always a pride to represent Chile and to give great results to the country and to Chilean rowing. Thanks to the work of the whole team, we have managed to position rowing as a strategic sport in our country. We hope that we will be able to inspire the upcoming generations, to prove to young women athletes that it is possible to dedicate our life to sport, to fight for what you dream about. For us this is the most important thing.
You have been pretty successful in the pair, and have now moved to the four – what prompted the switch to this boat class?
There are more and more talented women in the team! Our coach wanted to see what we were capable of in this boat, which went fast from the first day we got in together. For the Pan American Games, we are going to compete in this boat class, and that's why it was important to have more races in this boat- and it was a great experience. Each boat has its own dynamic: in the four, everything is faster, we need a lot of communication between the four of us so that we are always well connected and the boat works the way we want it to. On the other hand, in the pair, there is more time, it is a bit more technical and as we already know each other well, each one has her role in the boat, this means that we don't have to talk to each other to know what the boat needs, we just feel it. But we really enjoy rowing both boats.
How did you first get into rowing, and why is rowing so popular in the Abraham family?
We discovered rowing in the summer of 2008 because a friend of our brother invited him to row. As we are quadruplets, my mum wanted to be practical and she got all 4 of us into rowing and from day one we loved the sport. We loved rowing because we loved nature, and the club (Regatas Miramar) became our second family. We were raised in the countryside and we were always linked to nature. All four of us were rowing and our parents had to learn rowing because the sport became our way of life. At home, we talk rowing, we breathe rowing.
When you aren't rowing, what does your life look like?
When we are not rowing, we are studying, resting or getting together with our friends or family. When we get a holiday, we usually explore, or relax on the beach. We like to travel together because we are relaxed, we don't make life difficult for ourselves by staying in the best hotels or going to expensive restaurants. We are simple and that is our trademark.
What are your upcoming goals in rowing?
To be in the A-Final – and obviously win a medal at the 2023 World Cup III in Lucerne. And then, to qualify the boat for the Paris 2024 Olympic Games at the World Rowing Championships in Belgrade, and close the season on a high note with the Pan-American Games in Concepción (Chile), where we want to get a gold medal in all the events we compete in.
Where is your favourite rowing location?
Our favourite place to row is Lucerne, like 90% of the rowers on the planet! We also love Banyoles in Spain for training and we were amazed with Laguna Grande in San Pedro de La Paz. This is where we rowed for the first time, and we had never seen it in proper racing conditions. When we competed there for the Pre-Pan American Games a month ago, we felt it was a dream coming true to see such a good regatta course in our country. And the conditions were excellent on race days.
If you could give one piece of advice to a rower starting out what would it be?
If you want to get into rowing, two things must be clear: be willing to work hard and love the sport. This is the recipe for success. The attitude with which you approach the sport will determine your career. We would also say that talent is not the most important thing when it comes to achieving a goal. Hard work beats talent when talent doesn't work hard.
What is the most memorable piece of advice that has been said to you?
In our first World Rowing Under 19 Championships in Hamburg in 2014, we were very nervous and Bienve told us before the race:  "None of your competitors have 3 arms, 2 heads or 3 legs. They are all the same as you, now the one who wants it the most will win". That convinced us, and we did very well (finishing fifth overall). We, being from a small country, didn't understand very well what it meant to be finalists at a World Championship and Bienve made us aware of our performance – and he made us always believe that we could be the best.
Do you have a mentor or athlete that you admire?
Our mentor is our coach Bienve, he came when we were 15 years old and helped us become the rowers we are today. An athlete we admire a lot is Rafa Nadal – but we also admire the Sinkovic brothers and Virginia Diaz Rivas of Spain who own gold in the women's single sculls in Zagreb.