07 Sep 2023
Stand-outs and surprises: the World Rowing Championships so far
Halfway through the 2023 World Rowing Championships, we have had 166 races. A total of 18 crews so far have secured their Paris 2024 Paralympic Games quota spots, but the brutal racing has also eliminated several rowers and crews who have previously won world, Olympic and Paralympic medals.
Over the next four days the remaining Paris 2024 qualification tickets will be booked, and on Friday, Saturday and Sunday world championship medals won.
Stand-outs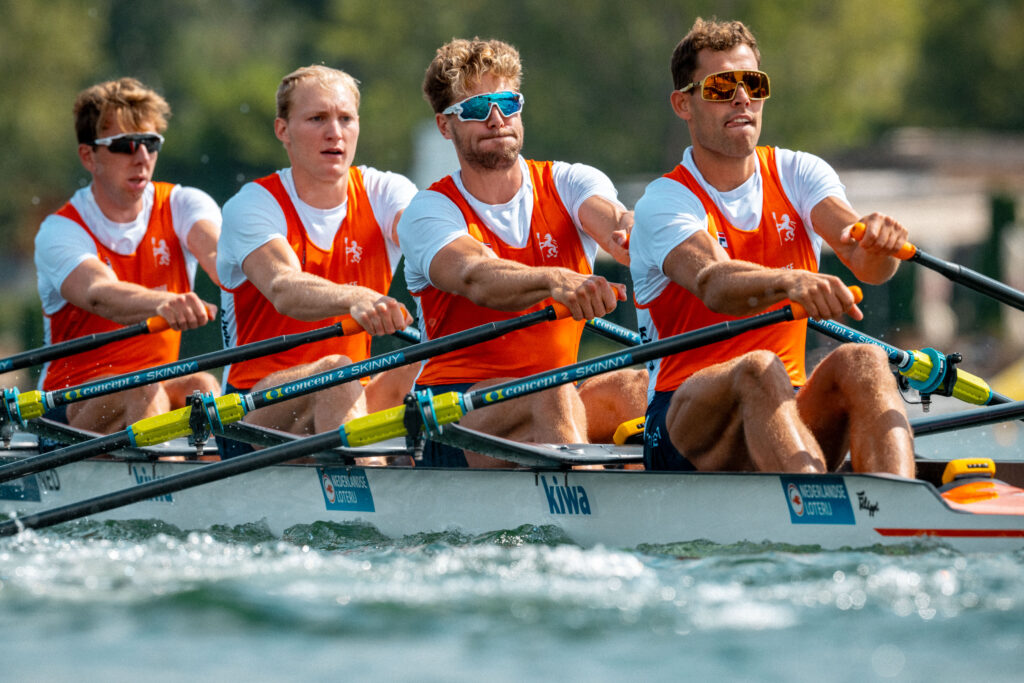 In the openweight men's field, two things seem likely: the Dutch will pick up three sculling medals, and Great Britain will pick up three sweep medals.
The Dutch sculling squad is outstanding. Its new-look quadruple sculls crew, including Olympic champions Tone Wieten and Kone Metsemakers, won their heat in the fastest time and under the least pressure.
Simon van Dorp is new into the single scull but appears to have been born to the boat, posting the fastest heat and quarterfinal times of the men's single sculls so far. He will be a significant threat to defending champion Oliver Zeidler, assuming they both make the final. Zeidler, though, is also sculling extremely well so far this week, especially in tricky conditions which have previously seen him falter.
And then there's the Dutch double sculls crew of Melvin Twellaar and Stef Broenink, who are promising to build into the regatta: ominous news for their opponents.
In sweep, the British men's eight won their heat by a fairly comfortable margin of almost a length over the Netherlands; the men's four were not the fastest, but their winning margin was the biggest of the three heats and they were smooth and controlled.
Men's pair Tom George and Oliver Wynne-Griffith were bitterly disappointed to come third to Romania and Spain in Racice and they have set out a strong case to be the favourites this year – although the defending champions Marius Cozmiuc and Sergiu Bejan are also in form again.
It is hard to look past Romania in the women's double sculls and women's eight. Ancuta Bodnar and Simona Radis were flying in the heats of the former to extend their unbeaten reign; it will take something extremely special from anyone else to topple them from the top of the podium. The Romanian women's pair and four are doubling up into the eight, but that does not seem to have affected any of the three boats' speeds.
The Chinese women's quadruple sculls crew also seem to be back on form after their uncharacteristic performance in Lucerne at World Rowing Cup III. They made their heat win look easy, and it was fast, too.
The Dutch and British women's fours and women's quadruple sculls crews are both ones to keep an eye on, after good performances in the heats. The British four, in particular, may have found the form they needed after a solid but perhaps underwhelming World Rowing Cup season.
There have been no World Best Times in Olympic-class events so far, but if conditions comply, the women's pair could be an event to watch. Australia's Jessica Morrison and Annabel McIntyre had a massive margin of nearly eight seconds over the field in their heat.
In the lightweight men's and women's double sculls there is every chance the reigning champions will retain their titles. Ireland's Fintan McCarthy and Paul O'Donovan, and Britain's Emily Craig and Imogen Grant, both stood out in the heats. If anyone will spoil the party, it will be the Swiss lightweight men's double who are also very, very quick.
Para-rowing is on the rise with increasing strength in depth, but some names still stand out. The British PR3 mixed coxed four remain undefeated; their teammates, Lauren Rowles and Gregg Stevenson in the PR2 mixed double sculls, set another World Best Time in the heats; and Norway's Birgit Skarstein made sure she is still the sculler to beat in the PR1 women's single sculls with a World Championship Best Time.
Surprises
The last few months have not been kind to Norway's men's single sculls Olympic silver medallist Kjetil Borch, with his fitness dented by over-training syndrome. The draw was not kind either, and in a stacked quarterfinal Borch finished fifth. He will now contend for a place in the C-final, and must decide whether to come back next year for another shot at Olympic qualification.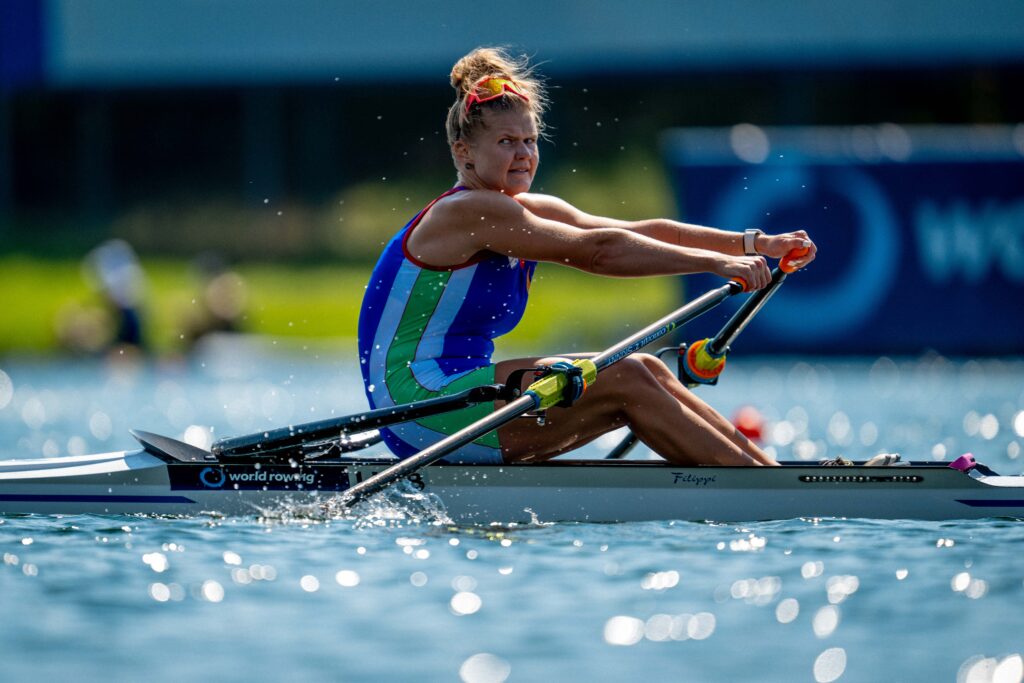 A similar picture was drawn in the women's single sculls, where Tokyo 2020 silver medallist Anna Prakaten of Uzbekistan also had to come through the repechage to make the quarterfinals. There, she finished fourth, missing out on the A/B semifinals and a chance to qualify her boat for Paris 2024.
The USA men's double sculls, Sorin Kosyk and Benjamin Davison, looked excellent in the heats and earlier in the season – but they fell to Norway in the quarterfinals.
The French lightweight men's double sculls crew, Hugo Beurey and Ferdinand Ludwig, are another decorated outfit with plenty of international medals to their name. But they missed out on the semifinals, finishing fifth in the quarterfinal despite coming second in their heat.
Another French double that would have expected to be in the medal hunt are also out of the running: PR2 mixed double sculls crew of Perle Bouge and Stephane Tardieu. The Rio 2016 bronze medallists were fourth and last in their repechage, and will not be able to claim a Paris 2024 ticket in Belgrade.
Likewise, Ukraine's 2022 bronze medallists Dariia Kotyk and Stanislav Samoliuk were outsprinted for the two qualifying places from their PR3 mixed double sculls repechage.
With Olympic and Paralympic qualification spots still at stake in the semifinals over the next couple of days, expect more surprises to come from Belgrade.