09 Sep 2023
The cherry on the cake for Alberdi and Cadot
There's always emotion in winning a world medal, but for France's Laurent Cadot and Elur Alberdi the feelings hit particularly hard on Friday afternoon.
Not only did the duo claim PR3 mixed double sculls bronze after a tight race with Great Britain, they also secured qualification to Paris 2024 for the event's Paralympic Games debut.
Cadot and Alberdi raced their first international regatta together in Racice last year, beating Brazil to gold by just over two seconds. The 2023 World Rowing Championships was, remarkably, just their second event together and the fact Alberdi was even able to race in Belgrade is amazing. She was diagnosed with stage 3 cancer in February and had to focus on her treatment rather than rowing.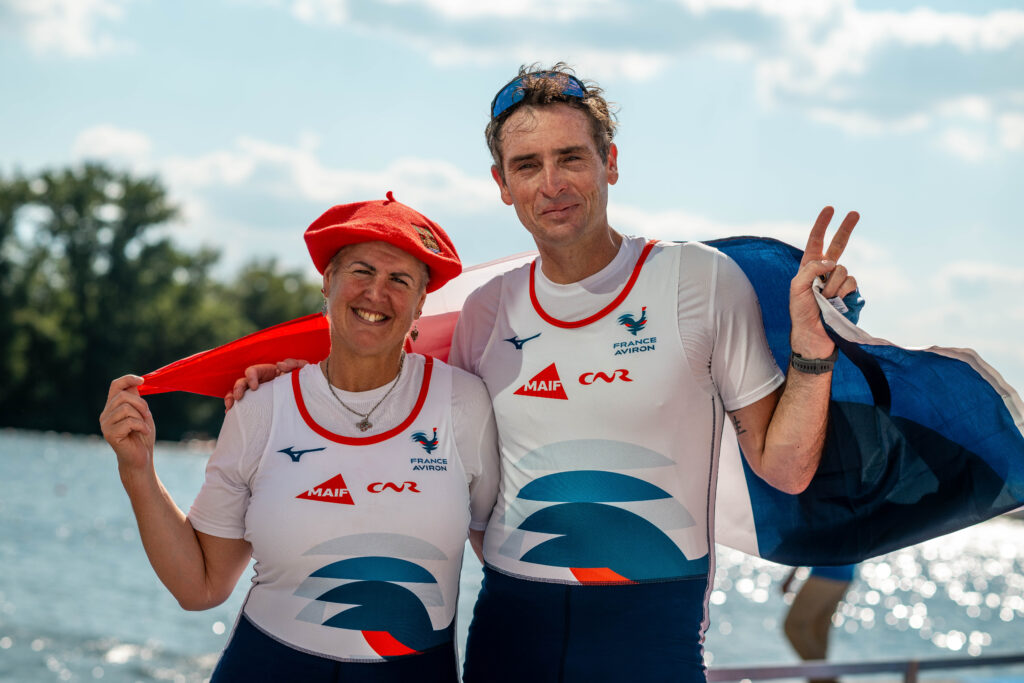 "I finished my chemo in June and it was hard, because I hadn't been able to row much, and if we manage to qualify the boat for the Paralympics it will be more than I thought I'd be able to," she says.
In the interim, Cadot was crowned European champion together with Guylaine Marchand – but he says racing with Alberdi in Belgrade was important.
"With Elur, we trust each other, there is real chemistry in the boat. She had a very difficult year, physically and mentally, and that's why this medal has a different taste this year," says Cadot.
The challenges of the year also mean that, while qualifying for Paris 2024 was the main dream, the French put their third place into perspective.
"This year we've seen the category become more concentrated. Last year the Australians weren't there, the Ukrainians haven't made the final this year. We didn't have the time to train this winter but it's fine, we won't hide behind excuses," Cadot says.
Both Cadot and Alberdi were rowers before taking up para-rowing. Cadot represented France at two Olympic Games (2004 and 2008) and a series of World and European Championships and World Rowing Cups, before he picked up an infection during back surgery in 2012, and then developed a degenerative neurological disorder. He returned to the sport in the French PR3 men's pair at World Rowing Cup I last year.
Alberdi rowed as a young woman before giving up to focus on career and family. She picked up rowing again after suffering a forearm injury affecting movement in her wrist, wanting to regain fitness.
She describes rowing as "the cherry on top of the cake of my life", adding: "If I wasn't doing sport, I don't think I'd ever have noticed I was ill. So it's given me everything. For me it's huge. And then rowing with Laurent last year was more than I could have imagined: me, a mum with three kids, living that. I'm so happy to be at this level with the year that I've had, and to be here with Laurent, because it's great to row with him, it gives me huge pleasure."
Qualifying for Paris is particularly sweet as the double will join their teammates in the PR3 coxed four, who secured their place through the heats on Monday.
"Having the Games at home is unbelievable, being able to share it with my family, it's incredible. I think there'll be some amazing moments," Alberdi says.
Cadot adds: "For me this is really the starting point. We have one year to build something solid for 2024."
Although the Paralympics are a separate event from the Olympics, Cadot says the inclusion of para-rowing at the World Rowing Championships is invaluable.
"That's a change which has really brought a lot to para-rowers and how people see us. They realise that a disability is not always a brake," Cadot says.
He adds that he has struggled with identifying as a para-athlete, but at the same time, welcomes the rapid growth and deepening of para-rowing.
"When the performances are good, the times are good, we're seeing world records fall, like at Varese and here. Before the races weren't that interesting, there were enormous gaps. Now it's down to nothing, and that attracts spectators who want to see that. It legitimises us as athletes. We're seen as high-performance athletes and not disabled people who do sport," he says, echoing the words of his teammate Nathalie Benoît after she qualified the PR1 women's single sculls boat for Paris.
The ever-positive Alberdi describes sport's influence on her and others as a "flower blossoming".
"There is no limit, no disability which stops you doing sport, and that has to be remembered. I find being an actor in this development incredible," she concludes.