15 Nov 2023
Marc Oria: coaching Beach Sprint Rowing
With the Los Angeles 2028 Olympic Games officially confirming Beach Sprint Rowing in their programme, alongside Classic Rowing, this is a good opportunity to explore this exciting and growing Coastal Rowing category more closely. Marc Oria, who coaches the US Coastal Rowing Team and runs the coastal rowing programme 'Next Level Rowing' with Ben Booth, shares his insights.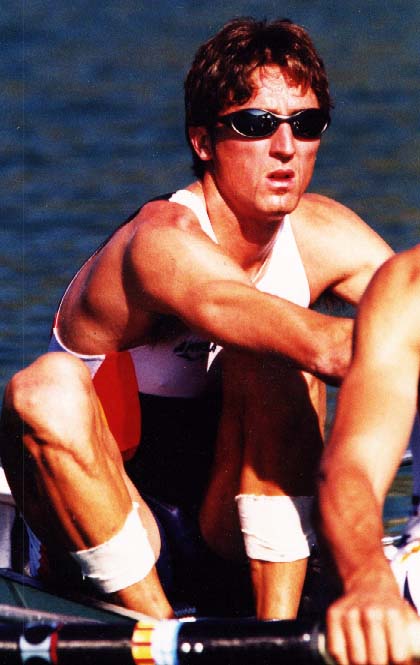 Oria's background, in many ways, places him in a prime position to embrace Beach Sprint Rowing. Hailing from Barcelona, he discovered flatwater rowing at a young age, finding tranquillity on the boat. He quickly excelled as a lightweight rower, rising to represent the Spanish National Team at U23 and senior levels.
Oria also had a scientific and curious mind, eventually transitioning from elite rowing to focus on his academic career, which included pursuing a PhD in Neuroscience and lecturing. He also enjoyed training rowers and later became the head coach of Reial Club Maritim Barcelona.
In time, he sought other sporting pursuits too, including embracing triathlons and ultra-endurance events. Those experiences, which placed importance on transitions and multisport training, meant Oria was quickly sought after as a coach as the Beach Sprints Rowing scene as it emerged. He now helps convert flatwater rowers into the beach version at a high-performance level.
Oria is clearly excited about this new format of racing, saying, "Beach Sprint Rowing provides such a rush of energy, emotions, and intensity, including the transition point of running and rowing."
Indeed, Beach Sprint involves a knockout format, slaloming across the waves that might last only two and a half to three and a half minutes, allowing the audience to clearly see athletes' boat-handling skills. Oria added, "Spectators being so close means they can share the excitement and the tensions of race."
Oria reflects on the characteristics of a top Beach Sprint athlete. "The key word," Oria emphasises, "is the term 'athlete,' rather than just a rower. These athletes need to have a lot of skills, including track and field ability to run fast, agility to climb the boat, orientation, and technical boat-handling confidence to handle the unpredictable waves, and, in particular, to turn sharply, as well as the fitness to run again after the sprint."
Despite the seemingly daunting differences to flatwater rowing, Oria reassures us that, in many ways, the training approach is similar and very compatible with classical rowing. Oria explains, "Most of the training still consists of rowing, including classic flat-water-based training. Indeed, many of my athletes combine both flatwater and coastal rowing, with new training forms added later in the season, such as sprinting, agility, circuits, and track and field. When asked whether the rowing machine still features, Oria laughs, "Oh yes, erging continues, there is no escape in that!"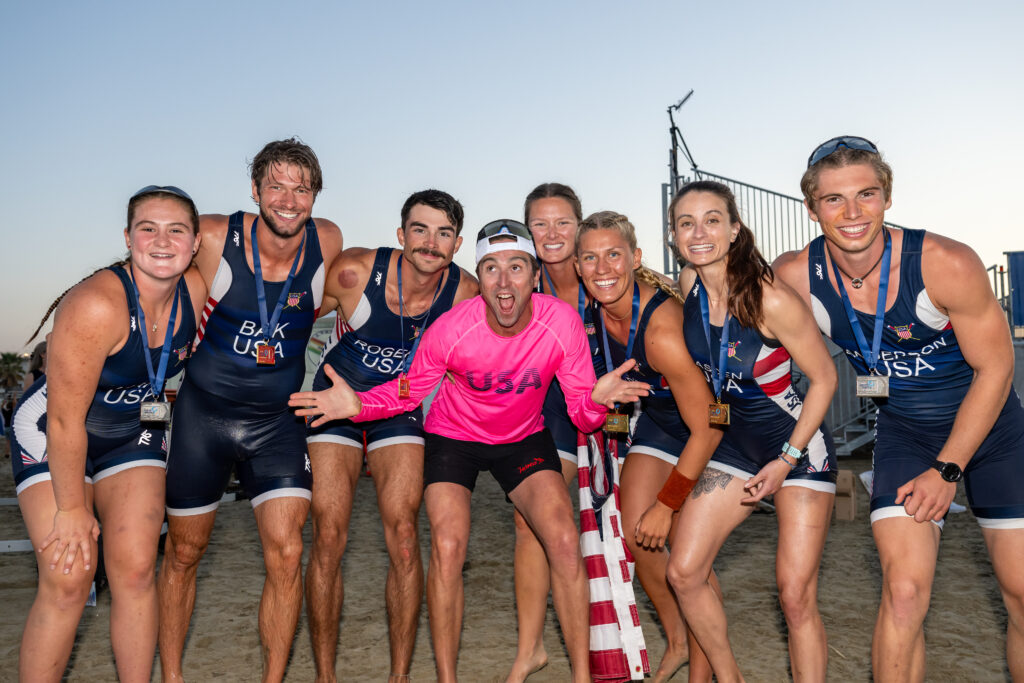 Beach Sprint Rowing is on the verge of rapid growth, given its inclusion in increasing events, anchored by the upcoming Los Angeles 2028 Olympic Games. Oria expresses optimism, despite the decision to include Beach Sprints coming alongside another to not remove lightweight rowing in the Olympics, "Despite mixed feelings as a lightweight rower, I see potential in Beach Sprint Rowing. It can be more inclusive, with mixed crews being an extraordinary addition. It is also inclusive for countries that don't have accessible flatwater venues".
Oria continues, "Regattas can also be organised more easily via the 'regatta-in-a-box concept', where the hosts can bring the boats and equipment. It will help expand the visibility of the sport." Oria also notes how these new Olympic categories provide new opportunities for rowers who, "May not be quite the tallest or heaviest in the crew but are instead very athletic".
As more classic rowers gain interest in the coastal rowing movement, Oria cautions about the potential misconception about how hard Beach Sprint Rowing athletes train, "The merry atmosphere by the beach surrounded by upbeat music should not mask the effort required in the sport."
Oria concludes that the 'great community and camaraderie' is what makes it special and stresses the importance of keeping that fun spirit going into the Olympics.
Given the excitement already building for Beach Sprint Rowing in such a short period of time, we look forward to seeing more athletes from all over the world try their hand in Coastal Rowing!