20 Jan 2023
Where are they now: Eskild Ebbesen
What do you do after winning Olympic gold? Like many athletes who reach the pinnacle of their sport they retire. This is exactly what Denmark's Eskild Ebbesen did. But then he came back for more and then more again.
Now 50 years old, Ebbesen uses the experience and life lessons he learnt through rowing in his post-rowing life. He's been retired for ten years but retains an enviable level of fitness and the characteristics that took him to the top of rowing remain in his approach to life.
Ebbesen started rowing as a 15-year-old for, as he says, "pleasure" and in his first couple of years he didn't compete seriously. For Ebbesen getting serious was a step-by-step progression, as he rowed more, he improved, started winning races made the Danish junior team and in 1990 went to the World Rowing Junior Championships.
When Ebbesen was 19 he was invited to join the national lightweight team in Copenhagen. At the age of 22 he was a World Champion and two years later an Olympic Champion Ebbesen had become the backbone of Denmark's famous lightweight four, Guldfireren (The Golden Four). Ebbesen's career took him to five Olympic Games scoring three golds and two bronze medals.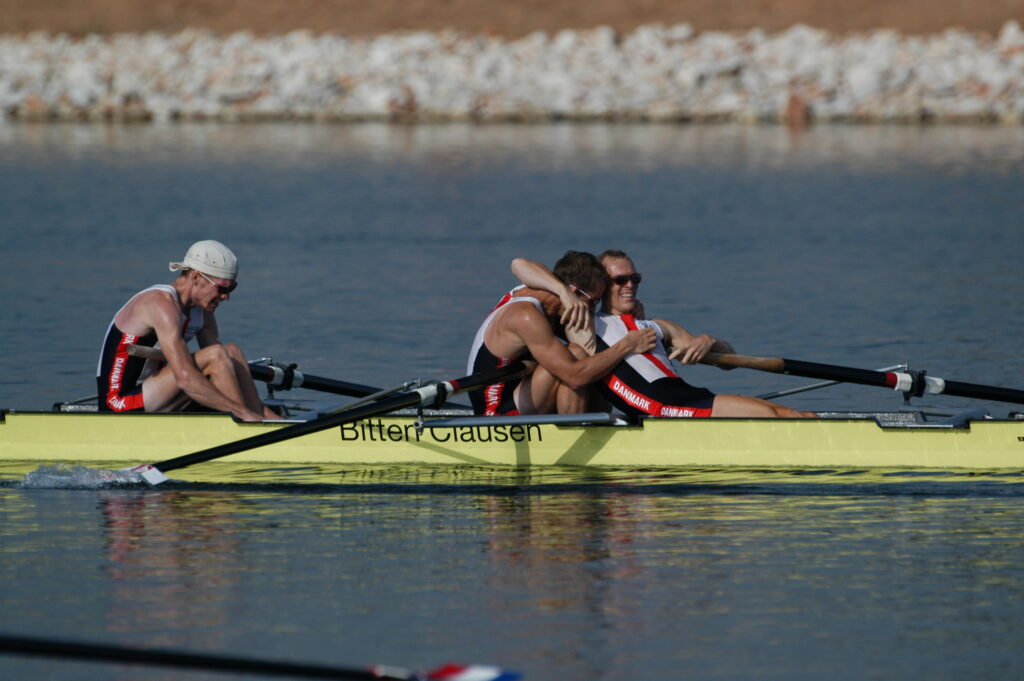 A standout memory for Ebbesen came from when the team was going through a bad patch with a number of bad performances.
"We were all in a bad mood and our goals seemed so far away," says Ebbesen. "I remember one evening we were up late and our coach came to see us. There was candy on the table and the coach commented; 'You could probably do something about it (your performance) yourself. You're up late and eating candy so look into your habits and lifestyle and you will make a difference.'"
"After that I took more responsibility for my lifestyle," says Ebbesen who took this lesson into his approach of rowing and his wider life.
After his third Olympics Ebbesen looked at retiring. "I was 32 and suddenly I was the oldest on the team. I had a wife and a kid and had started a company with two others. But," says Ebbesen, "I still had this motivation and curiosity whether it was possible to do it one more time. I was asked if I wanted to come back to the four. I'd kept my fitness so it was fast getting back into rowing."
Ebbesen went on to win gold at the Beijing Olympics. Planning again for retirement, the gold made Ebbesen think it would be possible for him to continue "even at 40 years old".
"I had three kids and a big house and garden. The plan was to stop but I opened up to the possibility of coming back."
In 2010 Ebbesen trialled for the team and two years later in London the crew won bronze. "It was close. There was just 0.3 seconds between the top three boats."
"Maybe it was a good thing we didn't win," says Ebbesen.
He retired for the last time in 2012.
The transition to life after rowing was relatively easy for Ebbesen.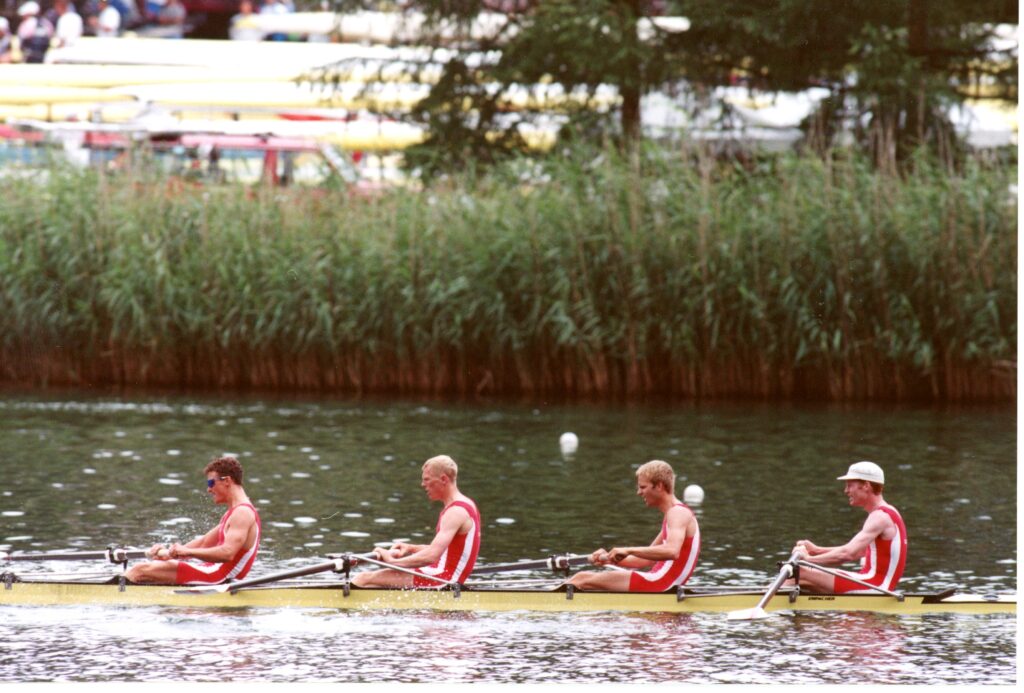 "I'd been studying a masters in psychology and I wrote a paper about the transition from elite to normal life. So I knew what to do. I knew it was a challenge if you tried to make too many changes at once. In my case I lived 100 metres from the Danish Rowing Centre so I'd still go and train and see the old guys. A lot of my friends had stopped and we'd still meet up.
"I still competed, not in rowing but in mountain biking and other sports," says Ebbesen who retained a fitness that held him at an elite level in cycling and mountain biking.
"A couple of years after retiring I went for the (indoor rowing) world record for 2000 metres in the over 40s." Ebbesen got the record and says it was only about six seconds slower than his last erg test while competing.
Rowing experience is strongly reflected in Ebbesen's working life. He helps companies to reach their goals and realise their potential.
"I talk about how you don't get better by setting goals, but by how you structure your daily life. I talk about choosing your battles. This comes naturally from elite sport where you have to say no to things and prioritise sleep and recovery.
"I also talk about optimising your daily life by making the hard things easy. Try to prepare yourself so you don't have too many steep hills in your daily effort.
"But most important, I try to inspire cooperation. The effort you put into your daily life should help the whole team. Like in rowing, the effort you put in should give speed to the whole boat. You need to pay attention to the speed of the boat, not just pushing on your own oar. This is new news for a lot of people in the workforce."
Although Ebbesen says his transition to post-rowing life was easy, he admits that it remains hard to find the same passion in daily life that is anything like being a part of a team that's heading for the Olympics.
"That intensity is not easy to find."
FROM THE ARCHIVES: FISA INFO May 1997 – DEN LM4-